A Crawl Space Restoration is needed when at least 30% of the crawl space (including insulation, vapor barrier, foundation, and footings) are contaminated with rodent droppings and/or urine. This can become a health hazard to the homeowner. As the rodent droppings dry, particles become air born, get into the air ducts, and are then delivered inside the home.
Our crawl space restoration is the process of removing insulation, vapor barrier and other loose debris from a crawl space due to rodent (or other animal) contamination. By removing the insulation and vapor barrier, we are eliminating the rodent harborage and communication by odor (smell), making the area less desirable for existing and future rodent activity.
We also remove existing rodent droppings from the foundation, mudsill, and footers. After cleanup is completed, we go through with a "fine-toothed-comb" inspecting for any possible rodent entry points that would allow future contamination. We repair and/or replace any missing or damaged vent screens, exclusionary work, and fill plumbing entry points with expanding foam or steel wool. Finally, we install new 6 mil vapor barrier and decontaminate the crawl space with an antimicrobial fogger.
Some benefits of a completed crawl space restoration are improved air quality, improved energy efficiency in the house, and eradication of rodents, pests, or other animals. Oftentimes plumbing leaks, dangerous electrical hazards, and wood destroying organisms can be discovered. These problems are often overlooked, because they are concealed by the insulation.
​
The Process:
1. Create a Safe Traffic Route From Crawl Access, to the Outside of Home.
2. Remove and Haul Away Debris, Damaged Insulation, and Vapor Barrier.
3. Sweep Rodent Droppings From Footings, Foundation, and Sill Plate.
4. Re-Install New 6-mil Vapor Barrier Throughout Crawl Space.
5. Repair and/or Seal Damaged Air Vents and Other Entry Points.
6. Place Rodent Bait Stations in Crawl Space.
7. Decontaminate Entire Crawl Space With an Antimicrobial Fogger.
​
It is important to have vapor barrier down underneath your crawl space to help prevent water damage. We install new 6mm vapor barrier with each crawl space restoration.
Crawl spaces are often overlooked, but if not maintained, they can become a nesting ground for rodents. Our technicians will inspect your crawl space, bag and remove contaminated vapor barrier, and haul it away.
Opossums, and Raccoons like to pull down insulation and use it as bedding.
Raccoons and other Rodents can cause sufficient damage to homes.
You can find evidence of water damage during a crawls space inspection.
Evidence of rodents may be observed during a crawl space inspection.
All insulation is removed, bagged up, and hauled away.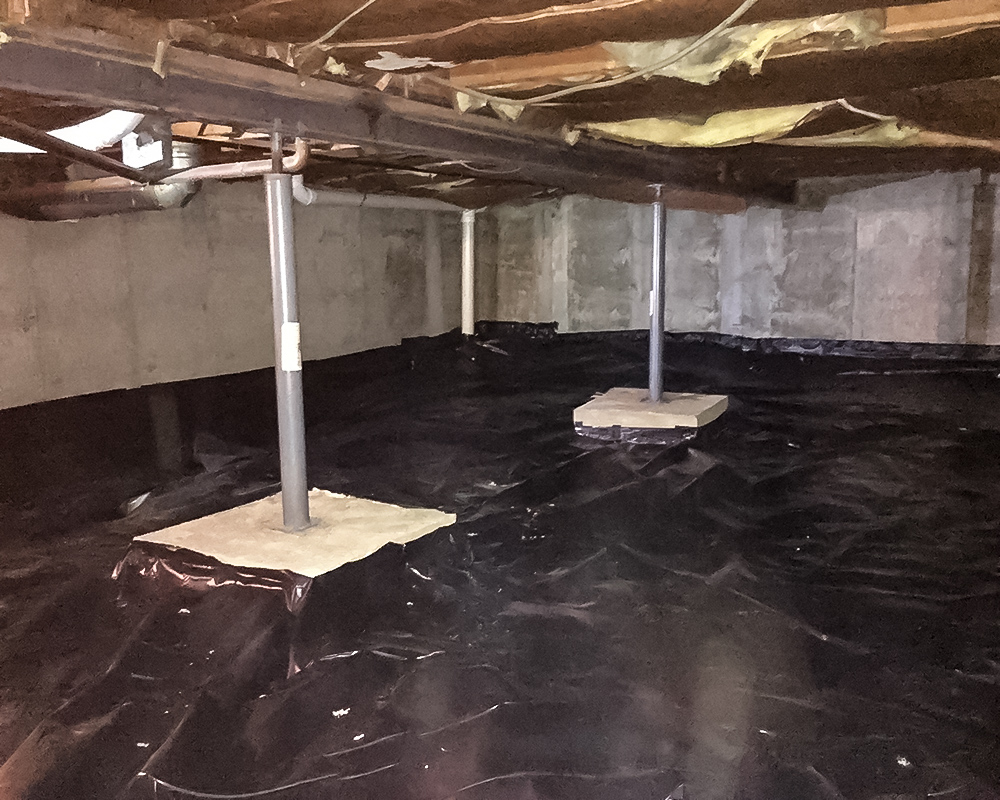 All rodent droppings are swept up off the footings, mudsills, and air ducts.
Old vapor barrier is stripped out and replaced with new 6mm vapor barrier.
Each crawl space restoration comes with a decontamination, thus eliminating air borne bacteria.
Crawl space is decontaminated, cleaned out, and restored back to new.
We also provide installation of premium Roxul fire-resistant insulation.